October 15th, 2021
11a.m.
Suwanee Town Center Park
FOR THE SERIOUS RUNNER:
Run for your best time and celebrate with a 12 oz. cocktail at the finish line.
-OR-
FOR THE MOST FUN:
Run, jog or walk the course with five 3oz. "spirit" stations pouring samples of ready to drink cocktails guaranteed to quench your thirst. Plus receive a full 12oz. cocktail at the finish line.
Register early, price increases on September 1st.
**All runners who participate in beer sampling must be 21 years or older and show a valid ID day of the race
Why run from the spirits when you can take them with you!
Join us at Town Center Park in Suwanee for a 5k run with delicious cocktails on Saturday, October 15th at 11am. Don't forget to stop by our vendor and sponsor tents
The second annual Spooky Spirit 5K, presented by the team behind the award-winning Suwanee Wine Fest, offers a Cocktails and Costumes twist on the traditional 5K. This timed, Peachtree Road Race qualifying event is fitting for anyone, whether you are a competitive runner trying to beat your personal record, or you're just looking to sip and stroll with your closest cocktail loving friends. Just choose the ticket that channels your Halloween spirit - either non-stop or with Spirit stops - and we'll all cheers together at the finish line!
Participating Beverage Sponsors – Stay Tuned
North Gwinnett Cooperative
Formed in 1991 as a ministry that provides food, clothing, financial assistance and spiritual support to those in need in the Buford, Suwanee, and Sugar Hill communities. Originally formed by Sugar Hill United Methodist Church in 1991, the ministry is now supported by additional congregations, area businesses, civic organizations, schools and individuals who generously donate food, clothing, financial resources, and committed volunteer efforts.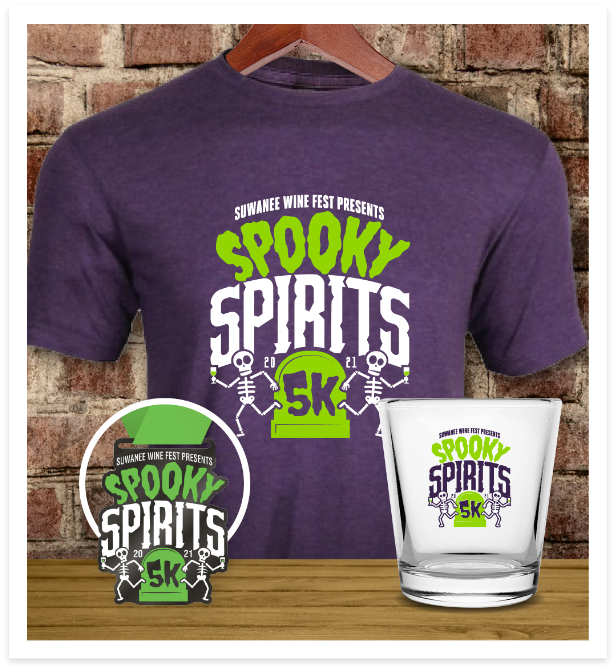 Every runner will also get to take home an official Spooky Spirit 5K shirt, medal and souvenir glass to brag about your well-deserved accomplishment.
For those who purchase a ticket with "spirits", you'll be able to pause at each of the six Spirit Stations (Hello, Vodka Lemonade!) along the course and hydrate with a 3 ounce cocktail sample. Each Spirit Station will feature a different cocktail and theme, guaranteed to be more treat than trick. For those who opt to run straight through without Spirit stops, don't fear, we have you covered. ALL runners (over 21) will get to enjoy a full cocktail at the end of the race.
Prizes will be awarded after the race for the Most Spirited costumes, so come dressed in your most festive running gear! Awards will go to (1) the best male costume, (2) best female costume (3) the best group costume.