With unlimited samples of over 150 wines, this year's festival truly boasts unique and exciting selections. BUT on top of that, attendees now have the unique opportunity to sample wines from Georgia Wineries that will be present at this year's festival!
Check-out 2018's Featured Wineries:

12 Spies Vineyards offers up to 14 varieties of wine – there is something for every palate! For those who like dry, varieties range from Chardonnay to Cabernet. For those who prefer sweet wines, choices vary from semi-sweet whites to a sweet red. 12 Spies Vineyards' goal has been to create a comfortable, warm atmosphere for guests to enjoy great wines and the views of God's creation!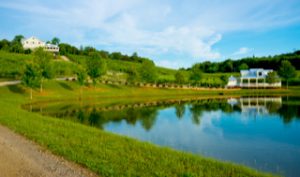 Frogtown Cellars, located in the heart of Georgia's first AVA, The Dahlonega Plateau, is home to 23 different varieties growing on 44 acres. Frogtown is dedicated to the idea of terroir, the beauty of Georgia earth by producing 100% Georgia grew, produced and bottled wines. Frogtown has won 3 double gold medals in major San Francisco competitions in the last 3 years. Come to taste the beauty and elegance of Georgia wine.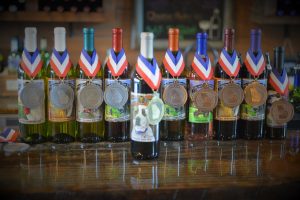 Sweet Acre Farms Winery is a small husband and wife run farm located in the beautiful foothills of the Northeast Georgia mountains. After growing blackberries and keeping bees for some time, the couple turned their u-pick farm into Hall County's first winery. They specialize in fruit, or "country wines," that are reminiscent of those southern families used to make. All of Sweet Acre Farms' fruit wines are 100% all-natural fruit; they never use any flavorings, coloring or concentrates.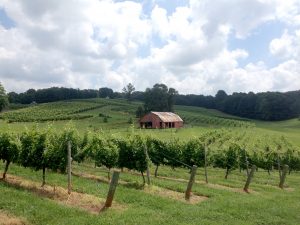 Three Sisters is a favorite destination for wine lovers visiting the North Georgia Mountains. With 184 acres, the vineyard is proud to be Dahlonega's first family farm winery and Lumpkin County's founding wine grape growers. Three Sisters offers a variety of indoor tastings from a large cherry wood tasting bar, that also features a distinctive collection of southern folk art and pottery. Outside, visitors can relax on the rock wall patio while listening to local acoustic folk, bluegrass, and jazz music.

Sharp Mountain Vineyards was established in 1994 making it the oldest vineyard in the region featuring 12 Georgia-grown European vinifera. The winery, tasting room, and gift shop opened December 1, 2005. All of SMV's award-winning fine wines are grown, produced, and bottled on site. From start to finish, Sharp Mountain Vineyards wines are truly handcrafted in the old world fashion.
Located half a mile south of Alpine Helen, Habersham Winery is one of Georgia's oldest and largest wineries. In addition to a large selection of Georgia grown and produced wines, the tasting room also features a gift shop with gourmet foods and wine specialty items from around the world. Their popular Habersham and Creekstone labels include varietal vinifera wines as well as blended wines using both vinifera and French-American grapes. Their Southern Harvest label utilizes the distinctly Southern Muscadine grape. Habersham also uses American, French and Hungarian Oak Barrels with many of their wines. They have tasting rooms open daily at Habersham, as well as additional tasting rooms located in Dahlonega and Juliette.
Bear Claw Vineyards is located in Blue Ridge, Georgia.  Blue Ridge is known for its breathtaking mountain views, pristine bubbling springs, scenic hikes, and amazing fishing and wildlife. It is the perfect place to slow down, relax, and reconnect with yourself and those you love. At 1832 feet above sea level, with a cool mountain breeze, and rich and unique soils, the land was the perfect place to produce the highest quality wine. Therefore, Bear Claw Vineyards was created on the foundation of top quality wine and a soothing and relaxing aesthetic.
New to the North Georgia wine family is Big Door Vineyards. Located in White, Big Door Vineyards is a farm winery founded on friendship, vintage wine and memorable times.  After months of preparing, they are opening their doors to the public and welcoming everyone to come and enjoy the serene countryside and their award-winning wines.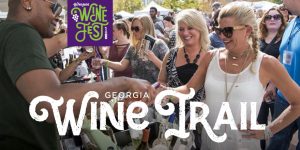 Looking for More Winery FUn? Upgrade to the Georgia Wine Trail!
New to the festival this year, participants can now visit local wineries throughout the festival to get their "passports" punched after trying exclusive wine samples brought just for pass holders! After visiting all the wineries, take your passport to the Suwanee Magazine tent for a special surprise!
[button link="https://www.bigtickets.com/e/vdg/suwanee-wine-fest-2018″ type="text"]BUY TICKETS[/button]