With unlimited samples of over 150 wines, this year's festival is sure to bring a selection you and your friends will love. We will be welcoming back some of our old favorites, as well as, bringing in some new wineries for you to try!
Check-out 2019's Featured Georgia Wineries: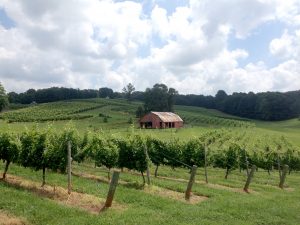 "Thar's WINE in Them Thar Hills" ™ at Three Sisters Vineyards & Winery!  Celebrated as "Dahlonega's First Family Farm Winery," Three Sisters holds the distinction of being Dahlonega's first bonded farm winery since prohibition and the first of the five vineyards established in Lumpkin County proper. The estate is located in the "Heart of Georgia Wine Country" and situated on 184 acres between Dahlonega and Cleveland. Laid back and fun, Three Sister's small farm agribusiness is dedicated to growing the finest grapes that Georgia can grow and making beautiful hand-crafted wines. They invite all wine lovers to come and taste for themselves!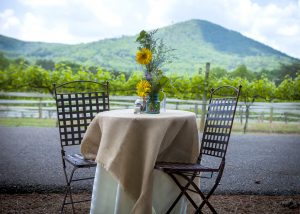 In Jasper, Georgia lies one of the oldest vineyards in North Georgia. Sharp Mountain Vineyards was established in 1995 and has been producing Award Winning wines since 2004.  Eleven varieties of European Vinifera are all produced and bottled on-site. Our family-owned business prides itself on the personal attention we give to every vine, wine, and most importantly guest.
Drink in the beautiful scenery of rows of espaliered vines with a commanding view of Sharp Mountain.  Browse our Tasting Room and Gift Shop while enjoying our pavilion, patio, live music, and bottle or glass of wine. From start to finish, SMV wines are handcrafted in the Old-World fashion. It's more than a wine: It's an Experience The winery is open Friday, Saturday and Sundays.

CeNita Vines are planted on the site of the Family's first Dairy Farm, so the soil is perfect for growing balanced wines. Their families have been farming for 4 generations, and understanding the soil, climate and growing seasons is paramount in the making (growing) of wine.  Good wine must start with Good grapes. Now CeNita produces 1000 + cases a year from their Estate vines and is continuing to grow every year.
Their Handcrafted Estate Wines are made from the finest of Vinifera & Hybrid Vines, including Merlot, Cab Franc, Cab Sauvignon, Vidal Blanc, Chambourcin, etc. flourished in the rich North Georgia soil. Greg and Carol Crumley strive to grow the finest fruit and let the vintage speak for itself.   Drop by and Make a Memory.

Kaya's Winery and Tasting Room are located in Dahlonega, built atop a ridge that is 1600 feet above elevation and offers the most panoramic mountain view in North Georgia. All Kaya wines are made exclusively from estate-grown grapes produced from their property. The vineyards are planted with classic European. Italian and American varietals. Their techniques are meticulous; the secret lies in the management of the vineyard. The Kaya team loves to produce hand-crafted complex wines that cater to the serious enthusiast. Their tasting room goal is to provide an educational experience for those with a passion to learn about wine.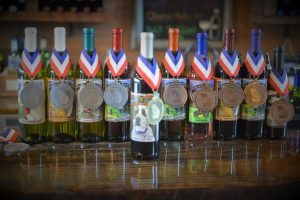 Sweet Acre Farms Winery is a small husband and wife run farm located in the beautiful foothills of the Northeast Georgia mountains. After growing blackberries and keeping bees for some time, they have turned their u-pick farm into Hall County's first winery. They specialize in fruit, or "country wines," that are reminiscent of those our southern families used to make. They honor our state's agricultural diversity by using the finest ingredients from their farm and farms alike. All of their fruit wines are 100% all-natural fruit; and never use any flavorings, coloring or concentrates.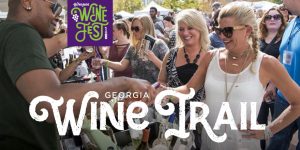 Looking for More Winery FUn? Upgrade to the Georgia Wine Trail!
Returning to the festival this year, participants can visit local wineries throughout the festival to get their "passports" punched after trying exclusive wine samples brought just for pass holders! After visiting all the wineries, take your passport to the Suwanee Magazine tent for a special surprise!
[button link="https://www.bigtickets.com/e/vdg/suwanee-wine-fest-2018″ type="text"]BUY TICKETS[/button]