Suwanee Wine Fest FAQ
---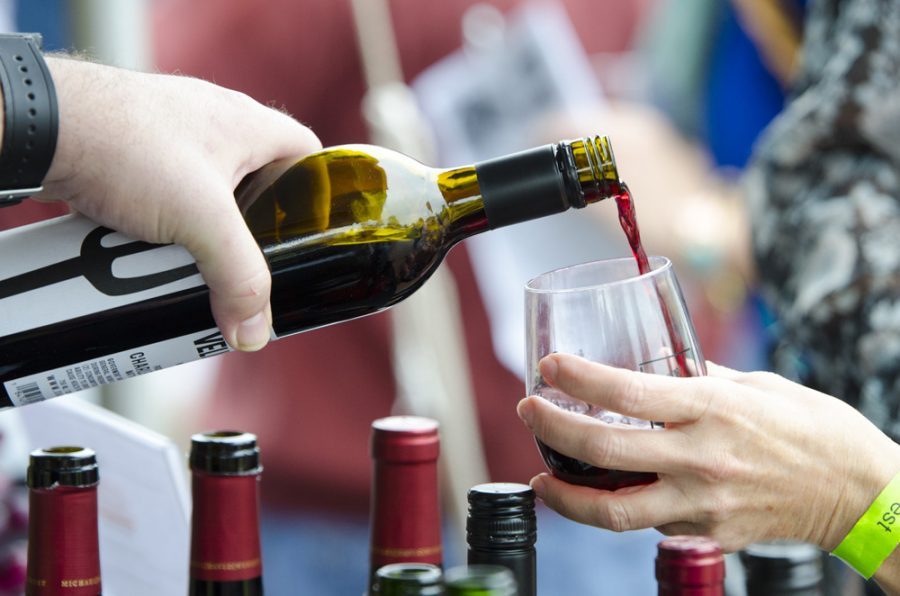 If I am not 21 can I still attend the festival and not drink?
All attendees must be 21 or older by November 3rd, 2018. You must bring a valid photo ID to attend.
Can I bring my children with me, or is there something for them to do while I am at the festival?
No. All attendees must be 21+ years old with valid ID to attend.
Are pets allowed?
No. Only certified service dogs allowed.
How much is the festival?
General Admission Tickets are $49.
VIP Tickets are $99.
Georgia Wine Trail Passes are available as a $10 Add-On.
Ticket prices increase on October 14th. 
What do I get with my ticket?
General Admission ticket holders will receive unlimited wine & craft beer samples, complimentary food samples, live entertainment, delicious food for purchase, and a variety of activities + shopping experiences provided by vendors. Times: 1 pm to 4:30 pm.
VIP ticket holders receive everything included with General Admission PLUS one hour early entry to beat the lines, a private tasting & dining tent with higher-end wines to sample, wine education offerings, a fully-catered meal by Marlow's Tavern and an exclusive Suwanee Wine Fest t-shirt + goody bag. Times: 12pm to 4:30pm.
Georgia Wine Trail pass holders will have the unique opportunity to sample EXCLUSIVE WINES from some of Georgia's top wineries! Once you have gotten your passport stamped at each winery, take it to the Suwanee Magazine tent for a special gift. For only $10, upgrade your 2018 Suwanee Wine Fest Ticket to include the Georgia Wine Trail passport to participate in this limited offer. A limited number of "passports" will be available.
What are you doing to make the lines move faster?
We heard your feedback from last year! We are offering more wine tents and tables and will have clearly marked signage identifying wineries and wines at each tent. All we ask is that you have your ticket and valid ID ready to go at the gate! 
What if I need to take a smoke break?
Smoking is prohibited within 15 feet of any tents. Open areas are okay. Butts on the ground are not!
What can't I bring? 
"Unlicensed or illegal Weapons (i.e. knives, pepper spray, stun-guns, any weapons or firearms in the possession of anyone not properly licensed to own or carry such weapon or firearm, etc.)
Prohibited items include, but are not limited to: •Outside alcohol •Bottles •Cans •Outside food/beverages •Unlicensed or illegal weapons or firearms (i.e. knives, pepper spray, stun-guns, any weapons or firearms in the possession of anyone not properly licensed to own or carry such weapon or firearm, etc. •Illegal drugs •Chemicals •Fireworks, Smoke Bombs, etc. All bags, jackets, and guests are subject to search upon entering the event.
What's the Address?
330 Town Center Avenue, Suwanee, GA 30024. It's located at the intersection of Buford Highway and Lawrenceville—Suwanee Road.
When should I arrive?
Lines start to form early! VIP ticket holders can enter the park in a designated VIP entrance behind the stage at 12:00 PM (Noon). General Admission ticket holders can enter the park at 1:00 PM at the Main Entrance. Georgia Wine Trail Passholders will also have a separate line for entry. 
Do you sell Designated Driver tickets?
Yes, there are 100 Designated Driver tickets available and are available for $10. Designated Driver tickets will also be available the day of the event at the ticket booth. DD ticket holders receive access to the festival without beer tasting. Any DD ticket holder seen drinking alcohol will be immediately escorted from the festival grounds.
Will there be any food and non—alcoholic beverages available?
There will be a variety of food, water and non-alcoholic beverages available for purchase onsite.
How can I get there?
Our friends at Lyft have offered a promo code for 20% off a ride for ALL users! Use the code SUWANEEWINE18 or visit this link: https://www.lyft.com/invite/SUWANEEWINE18
What do I do for Parking?
Parking will be available around Suwanee Town Center Park. Please be courteous and avoid parking in surrounding neighborhoods or you will be towed.
What if I can't go anymore? Can I get a refund?
Sorry, no. Tickets are non—refundable and this is a rain or shine event.
Do I need to keep my ticket on me all day?
Guests must possess a valid ticket at all times. Guests unable to produce a ticket may be ejected from the event without refund. Guests who attempt to "sneak" into the facility may be arrested and cited for evasion of admission.
Is my registration/ticket transferrable?
Yes, tickets are transferable – but each barcode will only scan one time. You do not need to do anything special to transfer your ticket to another attendee's name. Purchaser name will not be checked against ID-holder name at the gate.
*Note—These policies and procedures are subject to change and update at any time.